If you have a serious request of having Great Dane puppie from the best euro bloodlines, please contact us!
Each purchased puppie from de Bouleum Kennel will have FCI-export pedigree, all nesessery paperwork for the flight and transport to new home, vaccines , deworming , micro-chip, and health-check before leaving us.
All puppies selling abroad have full registration, and able to registrate at AKC.
We will give you lifetime breeding support !
We do not sell puppies to resellers!
DE BOULEUM Kennel proudly presents new E litter
Puppies will be born at mid-June
f: GHANDAL DE LA BENJAMINE
(Dhiran de la Benjamine – Alexia de la Benjamine
m: BUENA VISTA DE BOULEUM
(Ch.Eoll von Freya's Rosenrot -Ch.Ambra)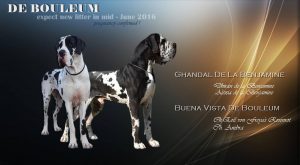 LITTER C
We have 2 boys.
f: Ch. Boss Donum Dei
(MultiCh. Bogart Bigulla & Ch. Bonita von Freya's Rosenrot)
m: Itara de l'Outsaina
(Ghandal de la Benjamine & Haa'Latïka de l'Outsaïna)
LITTER D
f: Ch.Eoll von Freya's Rosenrot
m: Ch. Ambra
Born : 08.08.2015.
puppies in litter: 12
8 males (2 harlequin, 1 mantle ,1 black, 4 merle)
4 females (1 harlequin, 1 mantle ,2 merle)
LITTER B
f: Ch.Eoll von Freya's Rosenrot
m: Ch. Ambra
Born : 24.06.2014.
puppies in litter: 9
4 males (1 harlequin, 1 mantle ,1 black, 1 merle)
5 females (1 harlequin, 2 mantle , 2 merle)
LITTER Z
f: Ch.Eoll von Freya's Rosenrot
m: Ch. Akira
Born : 24.04.2013.
puppies in litter: 6
3 males (1 platen, 1 mantle ,1 black)
3 females (1 platen, 1 mantle ,1 black)
LITTER T
f: Ch.Hannibal Lecter-A
m: Ch Altea Empire of Titan's
puppies in litter: 2
2 females (1 harlequin, 1 merle)